Pearls and Caves tour
Tour to the center and east of Mallorca. Orquidea Pearl factory, Porto Cristo and the Caves of Drach.
This tour takes you to the heart of Mallorca, to visit the famous pearls factory Orquídea. The port of Porto Cristo, a place with very attractive landscapes. And finally the natural wonder of the Drach caves.
Duration: approximately 4 hours.
Price: 180 €.
If applicable, entrance fees to the sites of interest are not included in our prices.
If you wish to extend the time of the tour, the supplement is 35 € / hour.
The price is for a taxi (1 to 4 passengers) not per passenger.
Pearls factory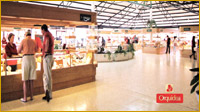 Orquídea pearls history is dating back to 1952. Located in the small town of Montuiri in the heart of Mallorca, it has the largest exposure of pearls in Mallorca, 2000 m. and a new department of high jewelry and cultured pearls.
The exhibition features over 1000 designs of earrings, rings, brooches, pendants, bracelets and necklaces.
Orquídea Pearls S.A. exports to over 40 countries in 5 continents and has received countless awards for its export activity. You can visit the factory (7000 m.) and see the making process of the famous pearls of Mallorca.
Porto Cristo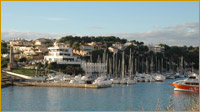 Porto Cristo is a place with a very attractive landscaping, a picturesque village with a sea port that still has a small fishing fleet.
Porto Cristo is one of the few towns along the sea from the island of Mallorca, who are kept without hotels complexes.
Formerly was a refuge for pirates and a Roman port thanks to its special port geography.
The village has also two jewels of nature, the Caves of Drac and Caves dels Hams.
Drach caves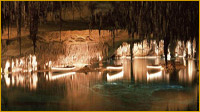 Located on the east coast of Mallorca, these caves are one of the main touristic attractions, undoubtedly is one of the most important caves of the island.
Inside the caves there is a large underground lake, the Lake Martel, one of the largest underground lake in the world, where daily concerts of classical music take place with pieces by Caballero, Chopin, Offenbach and others.
After the concert you can enjoy a short boat ride on the lake. The unique beauty of these caves is enhanced by lighting designed and built by engineer Carlos Buigas.
We recommend making your reservation with a minimum of 24 hours in advance.