North of Mallorca tour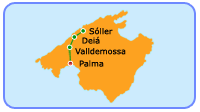 In the north of Mallorca the mountain binds to the sea, resulting in truly beautiful and unique landscapes.
This tour takes you to visit the most interesting places in the north of Mallorca. Valldemossa and the Cartuja, Deiá a favorite place for artists and celebrities, and Soller a place for nature and landscapes lovers.
Duration: approximately 4 hours.
Price: 180 €.
If applicable, entrance fees to the sites of interest are not included in our prices.
If you wish to extend the time of the tour, the supplement is 35 € / hour.
The price is for a taxi (1 to 4 passengers) not per passenger.
Valldemossa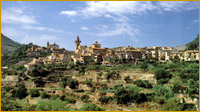 Valldemossa is located in a high part of the Tramuntana mountain range, surrounded of olive and almond trees.
It is rich in springs and is surrounded by an abundant and lush vegetation. Their steep, narrow streets offer an ancient and special charm.
Kept in the village, is the birthplace house of Santa Catalina Thomas. Stresses also the church of the thirteenth century, very reformed in the XVIII. Its main attraction is the monastery and the memories that where left in the residence of the romantic couple formed by Chopin and George Sand.
Deiá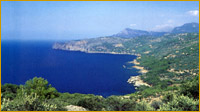 Deiá valley has been occupied by humans since prehistoric times, its caves, springs, wildlife, soil and proximity to the sea made it an ideal place for people.
Situated between Valldemossa and Soller, this valley has been and remains a favorite of artists, writers, musicians and celebrities.
It has been visited by such illustrious people as the Archduke Luis Salvador of Austria, author of "Die Balearen" and builder of the most of the large properties remaining in this part of the Tramuntana range.
Soller
Located about 3 km. from the port, 'Port de Sóller', the village lies in a fertile bowl shaped valley.
Sóller divides his valley with the village of Fornalutx and the village of Biniaraix, the valley is famous for its orange groves and terraces of ancient olive trees.
The valley of Sóller and the port, are a preferred destination for people from around the world, especially fans of hiking, nature, farm tourism, water sports or simply seeking a quiet break away from the bustle of other more known tourist destinations in Mallorca.
We recommend making your reservation with a minimum of 24 hours in advance.