City of Palma de Mallorca tour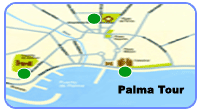 Palma is a rich city in architecture with Gothic and Baroque styles as predominant.
This tour takes you to visit the most emblematic buildings of the city, the Bellver Castle, Palma Cathedral, the Bullring and the historic center of Palma de Mallorca.
Duration: approximately 3 hours.
Price: 120 €.
If applicable, entrance fees to the sites of interest are not included in our prices.
If you wish to extend the time of the tour, the supplement is 35 € / hour.
The price is for a taxi (1 to 4 passengers) not per passenger.
The Bellver Castle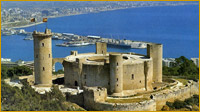 Bellver Castle was built between 1300 and 1311 for King James II of Mallorca and it was buided at once, giving it an appearance of great unity beauty.
Being built to house the royal court of James II of Mallorca, its structure combines the palatial needs of the the royal court whit defensive elements.
The views from its terraces is spectacular and its circular shape makes it a unique example of European civil Gothic. Its wall and the inner courtyard are both circular. The three towers attached to the walls are also circular and the tribute tower that is separated by a bridge from the rest of the building.
Palma Cathedral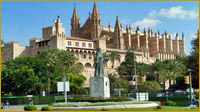 The Cathedral is the architectural jewel of the island and one of the most important Gothic buildings in Europe.
The museum of the cathedral consists of three major chambers, the former sacristy "dels Vermells," the former gothic chapter and the baroque chapter.
In the cathedral is the archive capitular of Mallorca, a collection of manuscripts, books, codices and parchments that testified a large part of the history and culture of the civil and ecclesiastical Mallorca.
The Bullring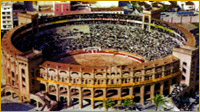 In 1928 work began to build the new Bullring and the first race took place on July 21, 1929.
Over the years, the Bullring has become one of the emblematic buildings of the city of Palma de Mallorca
Currently the site is able to accommodate all types of events, bullfighting have shared the arena with concerts, or sports competitions.
We recommend making your reservation with a minimum of 24 hours in advance.